Pixel Hex Tileset
A downloadable asset pack
Pixel Hex Tileset 1.1 is out!

-Over a 100 more tiles
-Various fixes/transparency changes to help with customization
-Island demo files now available for free!
-Read the full dev log here!
Pixel Hex Tileset
I'm proud to present the Pixel Hex Tileset, a 1206 tile pack that includes all you need to put together your own fantasy hex map in signature retro style!
This tileset is great for people looking to put together cool retro maps or game worlds for use in tabletop roleplaying (or however else!). What's included:
8 biomes and their transition tiles (grassland, dirt, desert, mesa, swamp, mountain, water, snow)
Various settlements, castles, dungeons
Road and river overlay tiles
Tokens for points of interest, camping, battle, etc.
Little people to represent the party or for encounters
Demo Tileset
The pixel hex demo, available exclusively for a limited time for Hex Kit backers, is now available on the store page for free. The demo is actually a stand-alone island map tileset. Grab a copy now!

Files and Installation for Hex Kit:

The Pixel Hex Tileset is compatible with Hex Kit 2.0, which supports flat topped hex tiles. The PixelHexTileset_HexKit zip file has all the tiles presorted in folders and is ready for import into Hex Kit. All you need to do is use the import tool in Hex Kit to select the unzipped folder, and then hit save without adjusting the images (Tiles may appear outside of the boundary but that's because things like mountains overlap the hex).
Files and Installation for Tiled (and other map programs):
Download the PixelHexTileset zip, and unzip it. All 1101 images are conveniently stored in one folder. Note that the images are saved as 96x96 pixels to allow for objects outside the hex boundary, but should be treated as 84x96 pixel images for the sake of hex sizing. Import the images and use the following settings:
Size: 84x96 pixels
Hex Alignment: Horizontal
Tile Side Length: 48 pixels
Render Order: Right down
Offset: None (These are perfectly aligned pixel hexes)
Terms of Use: By purchasing Pixel Hex Tileset, you agree to the following terms:
These art assets can not be used for commercial purposes or any other incoming or money generating activity.
The art assets can not be distributed individually, as single tiles, or as an art asset in any capacity other than a completed map or work.
Derivative or modified versions of this artwork may not be distributed individually, as single tiles, or as an art asset in any capacity other than a completed map or work.
Pixel Hex Tileset and all included artwork is Copyright 2018 Phillip Wiltzius (aka Zeshio)
Purchase
In order to download this asset pack you must purchase it at or above the minimum price of $7.99 USD. You will get access to the following files:
ZeshiosPixelHexTileset1.1.zip
4 MB
ZeshiosPixelHexTileset1.1_HexKit.zip
4 MB
Download demo
Comments
Log in with itch.io to leave a comment.
I'm having problims with importing your hexes into hex kit. The hexes just look off. I followed the instructions...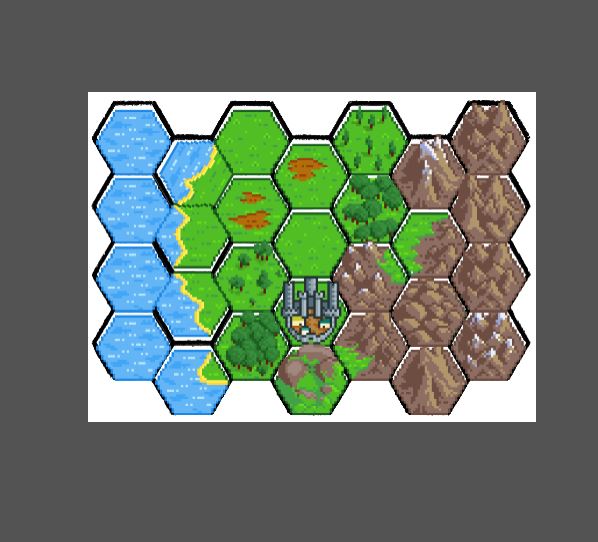 It looks like the hex sizing is off, what do you have it set at?
I tried it a bunch of times and now it seems to be working. Do you plan to release more pixel sets in the future?
I have a couple of different ideas in the works, but is there something in particular you'd like to see?
Nope, I was just curious, because I really like the pixel style.
Would you be able to do a town set? I'd love to see your take on a general store, smithy, apothecary, stables, or a city fountain!

Is the artist available? I would like to reach a commercial agreement with him. This art is very good :')
Tile set is great, but I have noticed that the coast pieces are missing the left leaning diagonal half piece.
That map looks sweet! Good job!
Thanks moconnor8! I really need to use google+ more, as I hear there's quite the ttrpg community there. I've definitely got some great press and feedback from that community.
It's a great hub for the indie ttrpg world and I've never heard of anyone using it for anything else.
Thanks for asking Ruxio. My license notes you can't use these tiles for commercial purposes. If you'd like to purchase a commercial license to use these tiles in a game, you can send me an email at zeshio.zworld@gmail.com.
If you'd like to see a free or pay what you want tileset, let me know and that might be something I can work up for people. I could start out with something basic and as people support the cause I can add in more stuff. It's currently not feasible as an artist for me to offer 1200+ tiles for free+commercial license. Thanks for understanding!
It seems grass coast tile 915 should be flipped (horizontally and vertically) as tile 912 already has that orientation.
Thanks for the tile set, it's beautiful!


Thank you! I'll make the fix and get the new stuff up this week too.
When I import the tiles into HexKit, they end up offset a bit below the hexes, which makes them impossible to rotate - which in turn makes coasts rather tricky...
Any idea on how to fix this?

Otherwise, SO pretty.
Myrion, there should be a tile for each orientation so you shouldn't need to rotate them. The tiles weren't meant to be rotated, so I would strongly advise against that. (The pixels would be all wonky). You could get away with vertical and horizontal flipping on some tiles, but you might wind up with some weird tiles that way.
Hm. Then I must've missed some, because I could swear I was missing some orientations.
I'll try again :)
I know the Hex Kit folders can be a bit crazy, so you can always download the original folder just to confirm. The names should be the same regardless of if they're in the Hex Kit or in the regular Pixel Hex Tileset folder.

If, on the off-chance I'm missing something, let me know and I'll get it added into my next update.
Thanks for your support!